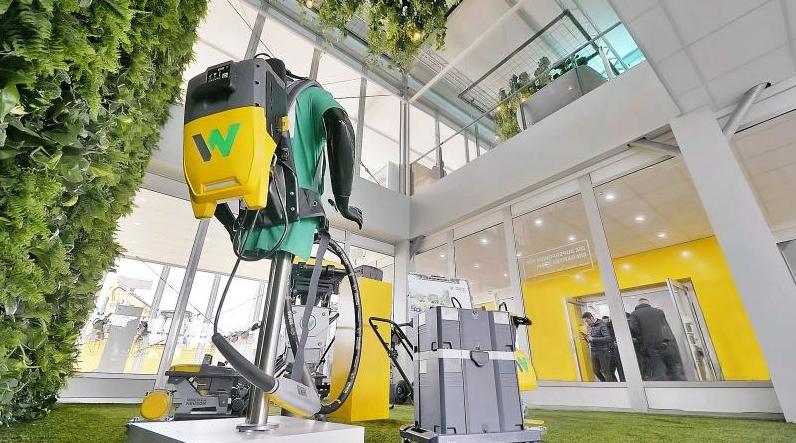 Wacker Neuson has expanded the options for emission-free compression. The manufacturer refers to its new products, the AS60e battery rammer, the AP2560e battery plate and a portable high-frequency internal vibrator system in which the battery has been integrated into a backpack. Three rammers, three vibrating plates and the internal vibrator are now operated with a lithium-ion battery that can be used in a modular fashion in all devices.
"After we launched the first vibratory rammer almost 90 years ago, we are now heralding a new era in compression with the current generation of rammers. We succeeded in combining new technology with proven quality and making work much more comfortable for the user, "says Stefan Pfetsch, Managing Director of Wacker Neuson Produktion GmbH.
The basis is a lithium-ion battery, which, according to the company, was specially designed for tough construction work and, according to the information, provides enough energy for all the work that a device does on an average working day. Two models of the removable battery with different outputs – BP1000 and BP1400 – form the heart of seven devices and can be replaced in no time at all, so that the operator can replace the discharged battery with a charged one within a few seconds. Whether internal vibrators IEe, vibrating plates AP2560e, AP1840e or AP1850e as well as the battery rammers AS30e, AS50e and AS60e: Thanks to the modular system with exchangeable battery, they are all ready for use at any time.
If you like hiking or are in the mountains, you will appreciate the quality of a good backpack. Together with a leading manufacturer of backpacks, an ergonomic and back-friendly carrying system for the battery of a portable zero emission internal vibrator with an electric motor was developed for users in building construction, explains Wacker Neueson. In this way, independent and wireless work is possible. There would be no tripping hazards due to cable connections between the external converter and the power distributor and internal vibrator. There is also no need to move the converter when changing the place of use. The internal vibrator with battery backpack will be available in autumn 2019 in two standard hose lengths (1.5 and 3 meters) and with vibrating bottles in three different diameters (38, 45 and 58 millimeters), announced Wacker Neuson.
For use in trenches, inside buildings and in noise-reduced zones, the AS60e range has been expanded to include a total of three tampers with an electric motor: the smaller model AS30e is a special tamper for the compression of pipe gussets, while the larger tamper AS50e and the new one AS60e is used for all classic ramming jobs. The compression performance corresponds to that of the petrol rammers of the same size class. Due to the zero emissions, strict requirements, for example for inner-city construction sites or work in trenches, are not an issue. An additional advantage is the low operating costs: By driving with electricity instead of petrol, around 55 percent of the energy costs can be saved. In addition, the engine is completely maintenance-free and all typical maintenance efforts of conventional rammers, for example on the carburetor, do not apply to the battery rammer.
After Wacker Neuson expanded the zero emission range in 2018 with the forward-running battery-powered vibratory plates AP1840e and AP1850e, the AP2560e model now follows. With a working width of 600 millimeters, it can be used especially for vibrating composite stone paving, but also for classic compaction work on granular soils. According to the company, it also makes work in the interior and other emission-sensitive areas such as digging and sheeting easier. The battery-operated plate is also suitable for use in water protection areas, since no internal combustion engines may be used here.