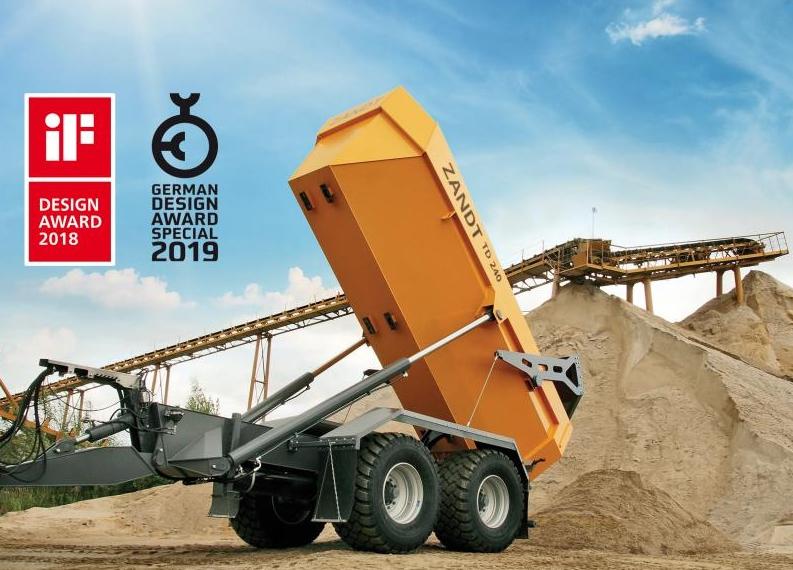 At Agritechnica, Zandt cargo is showing the new series TandemDumper TD 240 and a flexible low-bed trailer plateau AT-P 300 for the construction industry and agricultural logistics. The company will be exhibiting in Hall 4, Stand C05.
The TandemDumper TD 240 is an innovative earth-moving tipper with a tractor as a towing vehicle and a dump concept, whereby its volume and tipping values ​​correspond to those of the well-known ADT dumper. This is announced by Zandt cargo in a press release. In technical development, the focus was on specifications for tough use, tipping and driving stability and the lowest handling costs per ton in continuous operation.
The design is characterized by a dynamic and powerful appearance in addition to the high standards for functionality and ergonomics. These parameters were also recognized by national and international design and specialist juries. Zandt cargo was honored by the 63 design experts with the iF DESIGN AWARD 2018 with over 6,000 entries from 2955 participants from 54 countries in the product design category for the TandemDumper TD 240. The iF DESIGN AWARD has been a globally recognized trademark for over 65 years when it comes to excellent design. In another award at the beginning of the year, the TD 240 tandem dumper received another renowned design label from the German Design Council with the German Design Award Special 2019. This design prize has been awarded since 2012 and honors innovative products and manufacturers who implement new ideas in the German and international design landscape.
The trailer-Tiefalder-Plaetau AT-P can be used in a variety of ways for construction equipment, agricultural machinery and tractors as well as for the agricultural industry thanks to the flat loading area. With the Zandt cargo AT-P, the one-time investment costs and the lower running maintenance costs create a quick amortization and high profitability due to its flexible construction concept for different purposes. In addition, Zandt cargo can also implement special customer requests through its flexible production. There are mechanical and various hydraulic ramp variants in the area of ​​ramps.
With the pull-out extensions, storage boxes and optimal lashing options, needs-based application configurations are possible. For very high construction, agricultural machinery and tractors, wheel wells are available for height-compliant logistics. For straw and hay, big bags or even pallet crate transports, the loading area can be extended to the front using the drawbar stem, and the front loading grids create optimum load securing. The lighting system of the AT-P is available with a full-LED multi-voltage system. Zandt cargo pays particular attention to the braking concept. With control technology for both a tractor with 12V and a truck with 24V, both voltage circuits are available in the AT-P 300.